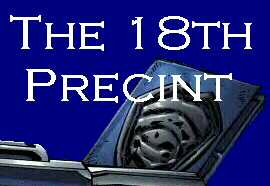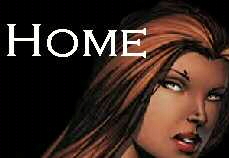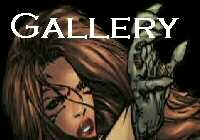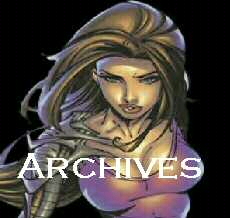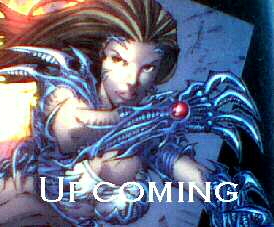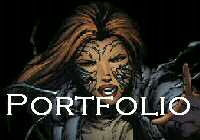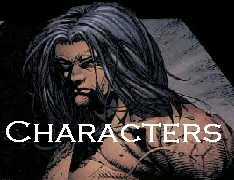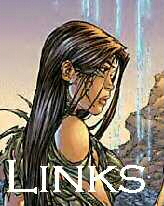 Hello and welcome to the 18th Precint-My Witchblade website and Online Writing Portfolio.Here I have issue reveiws, character profiles, sneak peaks of upcoming issues and a Gallery of images plus my Writing Portfolio of various Witchblade stories I have written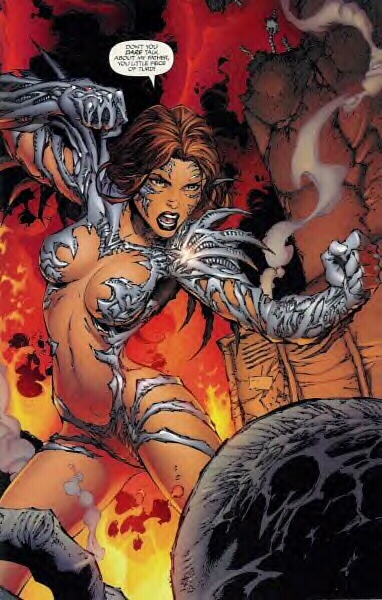 All characters, images, and logos are copyrighted by their respective owners
What a great arc this was!

Witchblade #9

Sara attends the trial of Gallo, the man she busted in the beginning. Later, Sara experiences life through the eyes of a former Witchblade wielder, the pirate queen, Anne Bonney.-My View-The art put aside, this issue is a bit too slow-paced. Gallo gets off free. Sara's spark flares and she warns Gallo to be careful. Sara learns through the Witchblade itself and no longer needs Irons' "guidance".
Witchblade #10

Sara continues her investigation of the Microwave Murderer as Mafia hitman, Jackie Estacado aka the Darkness is sent to deal with her and capture the Witchblade. A crime War is started.-My View-Intriguing and strong. Sara flexes her detective skills and gains a little control over the Witchblade's blood lust.A great ubtroduction for Jackie Estacado and The Darkness which seems very ties to the Witchblade...
Witchblade #11

Hot on the Microwave Murderer's trial, Sara must find Lisa Buzanis who is entangled in the treacherous modeling world. Her search leads her to model mogul, Dannette Boucher.-My View-Interesting...very interesting. Like all good detectives, Sara does most of her investigating herself. Again, Sara follows her instincts and knows something is wrong with the whole Boucher incident.
Witchblade #12

In the past, Joe Siry and his partner, Vincent Pezzini who was Sara's father, investigated a series of murders. The Microwave Murderer has been here for a long time. Joe reveals that Vincent was one of its victims.-My View-Secrets and plots. We catch a glimpse into the past where the Microwave Murderer has struck before. Tension between Sara and Jake flares. He needs to know what's going on so why won't she tell him?
Witchblade #13

Sara and Jake visit a Yakuza mansion only to talk, but hey wind up with a violent confrontation where the Witchblade runs ramped. Pieces fit together regarding the Microwave Murderer case.-My View-Questions and answers. Sara's detective skills kick into high gear and she finally figures out how everything connects thanks to the Witchblade. Awesome art, superb writing and great plot twists.
Witchblade #14

Siry, Jake and Sara confront Bruce Wilder at the Boucher Estate. Lisa's life hangs in the balance. As the men take it outside, Sara follows the Microwave Murderer upstairs for the final battle.-My View-Sara's unbreakable spirit shines through once more. She confronts her enemy and wins. The art was fantastic, and the story was incredible.